Back issues can affect your entire quality of life. It is particularly inconvenient if you are experiencing back pain while sitting next to your computer and working. That is a common issue for office workers spending eight or more hours sitting in their workplace. It is why designers throughout the world offer specialized office chairs for this issue. But the question is – which is the best office chair for back pain?
That is the answer we are looking for in this article. Take a look at our detailed reviews and learn more about the top-rated units available on the market. If you want to find out more about office chairs, our buying guide will tell you everything about the features to look for when dealing with back pain. All that you need to do is to take your time and analyze everything carefully. That way, you will easily find a unit that meets your expectations.
Best Office Chairs for Back Pain
1. SMUGDESK 1399 Office Chair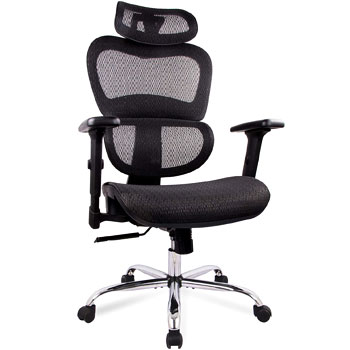 The best thing about this chair is its multi-function headrest. It allows free rotation, which guarantees that you will find an optimal position for your neck. The armrests are also completely adjustable, which is why the manufacturer calls them 3D. The weight capacity is great, and you shouldn't have any problems sitting in the chair.
Breathable mesh is the preferred material used for this office chair. It is a fine choice that secures feeling comfortable even when sitting for hours. Another important thing is lumbar support, and it is generous. You will feel like the chair hugs your lower back, and it can help with pain and other issues.
The chair has a five-point base to ensure necessary stability on any surface. The construction is sturdy, and the wheels ensure portability. However, the quality of casters could be better as they might not last long. Fortunately, replacing them is not an expensive investment.
Read more : SmugDesk 1388 High Back Mesh Office Chair Review
2. AmazonBasics Big & Tall Executive Office Desk Chair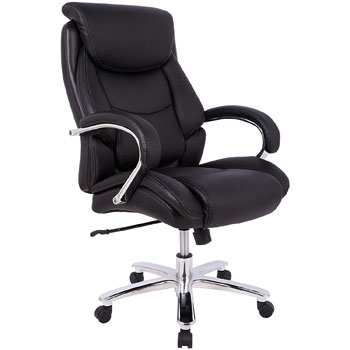 The assembly of this office chair is simple as the entire process takes four steps and less than ten minutes. The chair features bonded leather and look classy and elegant. That makes it suitable for executives looking for a unique furniture piece for their office.
The five-point base secures stability, and the 360-degree swivel ensures that the casters can move in all directions. The pneumatic height adjustment is user-friendly, and you can find the right position in seconds.
The chair has a 500-pound capacity, which is extremely generous. And although the construction is sturdy, the cushion might compress if people troubled by extra pounds sit in the chair for a long time. That might compromise your comfort, but you can resolve it by giving the cushioning time to return to the initial position. Overall, this office chair can be a good choice if you are dealing with back issues.
Read more: AmazonBasics Big & Tall Executive Chair Review
3. Argomax High Back Mesh Office Chair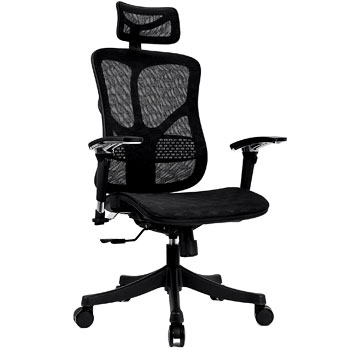 Argomax designed a chair that focuses on the needs of those who are experiencing back pain. The reclining feature allows you to adjust the chair to 135 degrees by tilting it. Thanks to that, you can pick an upright position when working, or choose another angle during leisure time.
The headrest is also adjustable and provides additional support for the back. Although it helps to find an optimal position easily, headrest construction is not that sturdy. It may feel a bit wobbly, and you might need to readjust it occasionally.
The chair is user-friendly as it features a single lever that modifies tilt back and seat height. The manufacturer picked mesh material for the chair, and it is quite comfortable. The product is certified by SGS and BIFMA, which is another confirmation of quality. The armrests are also padded, and PU casters are durable enough for any surface.
4. REFICCER Bonded Leather Office Chair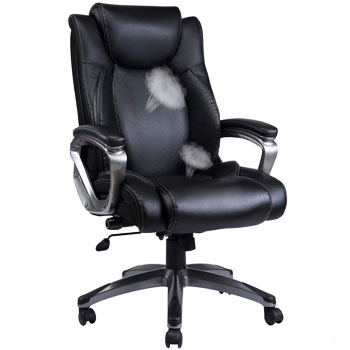 REFICCER's office chair features a modern design that will fit in contemporary office spaces. The product comes in black and metallic color combinations, and it features a five-strip base with PU casters. The material used for the chair is a bonded leather, which combines style and breathability.
The bearing capacity of the chair is 250 pounds, but if you get close to the maximum capacity, you might notice that the chair starts squeaking. The good news is that lumbar support is adjustable by using a simple knob, and the tilt angle varies from 90 to 110 degrees. You also have the option to lock the desired angle.
The entire chair features thick padding ranging from the headrest to a double-padded seat cushion. Casters are solid and ensure smooth rolling on any surface. Thanks to the generous support that the chair provides, you shouldn't have any problems sitting in it for hours.
Read more: REFICCER 8017 Leather
5. Hbada Office Task Desk Chair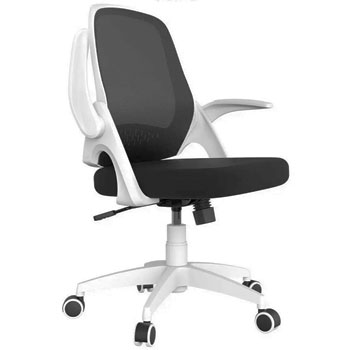 Hbada designed an office chair that doesn't look anything like other chairs. Its black and white color combination might seem a bit odd, but it is stylish and elegant. If you are looking for creative design solutions, and something different for your office, this is the chair for you.
The armrests can be flipped up when you don't need them. That makes this chair suitable for desks and office workers. The five-point base will provide the necessary stability. The backrest curve features an S-shape for optimal support, and 360-degree swivel allows casters to tun smoothly on any surface.
You will have to assemble the chair, which requires some time and effort. Fortunately, the instructions are clear, and that means a lot since the product has an unusual design. You can use the pneumatic mechanism to adjust the seat height, and the chair features a 120-degree tilt tension.
6. OFM Essentials Collection Executive Office Chair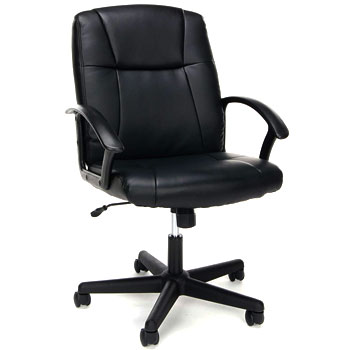 Although this is an entry-level chair, it looks classy. That is because of the classic black leather used, and modern stitching adds to the aesthetic value of the product.
The chair has a 250-pound capacity and offers numerous available adjustments. You can pick the desired seat height between 17.5 and 21.25 inches, and enjoy the large seat, and generous area in the back.
The product is easy to assemble, and you will receive an installation manual to help. OFM also ensured that their chair is both light and stable. Combined with the casters, that makes it very portable. The base and overall construction are sturdy to prevent any potential accidents.
The cushioning is not that generous, which is why comfort level might fall over time. However, this is an office chair with an affordable price tag, and that makes moderate padding understandable.
7. Ergohuman High Back Swivel Chair with Headrest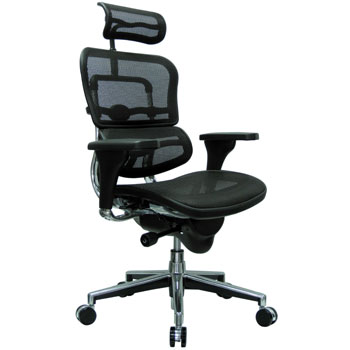 Our last suggestion for an office chair to counteract back pain is this premium unit designed by Ergohuman. The manufacturer designed each component carefully and used high-quality mesh to ensure maximum comfort.
It is worth noting that you can sit down, and then adjust the seat height with the adjustable cylinder. Lumbar support is also modifiable, and the product comes with a headrest. Thanks to that, the chair fits users of various heights. As for weight capacity, it is limited to 250 pounds.
The chair offers eight different adjustments, which means you shouldn't have a problem finding an optimal position. The breathable seat promotes blood circulation, and the chair is very stable.
The great thing about this item is that it is eco-friendly since the manufacturer made it from recyclable materials. It also has a certificate that meets BIFMA/ANSI standards.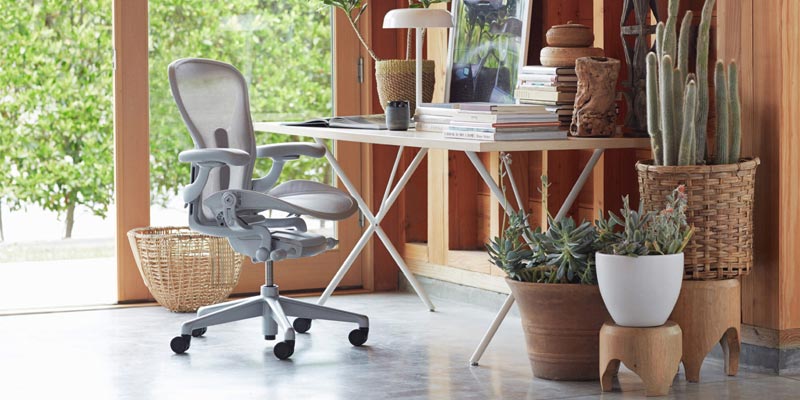 Office Chair for Back Pain Buying Guide
Not all office chairs are the same, which means some of them are more suitable if you are experiencing back pain. In this buying guide, we are focusing on the features that a chair should have to help you deal with back issues. You will also learn more about the causes of back pain at work, as well as how you can fight it.
What to Consider When Buying an Office Chair for Back Pain?
We will start with a list of factors you need to consider if you are dealing with back pain and continue with other important features to analyze when choosing an office chair.
Everything Starts with the Backrest

It doesn't come as surprising that back support is the top of your list if you need a chair that minimizes back issues. It is important to note that you can choose between high, medium, and low back chairs. Those with a high back are the priciest, and low-back items are usually the most affordable.

While low-back chairs can save you some money, they rarely come with generous back support. They focus on providing cushioning for the lower spine and lumbar parts of your back. If you sit in them for hours, you might experience discomfort and pain.

High-back chairs provide the most generous support as it spreads high enough to support the low and mid-spine, and even head and neck. All these are connected and important to minimize back pain.

Additionally, you can find chairs with fixed and adjustable backrests. The latter is more versatile, and multiple adjustments allow you to find the ideal position for your height and preference. Chairs with fixed backrests and lumbar support can serve you well, too, but make sure to confirm they fit your needs first.

Lumbar Support

The most frequent back pain is in the lower part of the back. That is why manufacturers pay special attention to that part when designing lumbar support.

You can choose between items with fixed and adjustable lumbar support. Take a look at our ergonomic office chair reviews to find units that give you enough freedom to find suitable positions when sitting for hours.

The Importance of Armrests

If you lift your hand away from your body and hold it for ten seconds or more, you start feeling pain in your shoulders and back. The same approach applies when you are sitting in your chair. If you can't put your hands comfortably on the armrests, you will experience pain sooner or later.

The first thing to ensure is that armrests are adjustable. If you need to get the chair close to the working surface, armrests might be a problem. That is why chairs that allow turning the armchairs down and getting them out of the way can also be a smart choice. Finally, make sure that some padding is present to ensure optimal comfort.

Is the Seat Height Adjustable?


Another thing that might affect back pain is the position of the seat. The general rule is that the screen should be in line with your eyes so that you don't have to look up or down, which would get the head out of its default position.

Most office chairs come with an adjustable height. However, analyze the lowest and highest settings to ensure they fit your height and workspace. Apart from the position of the head, make sure your feet touch the floor. Your knees should be at a 90-degree angle, and avoid keeping them higher than that.

Although it depends on your preference, these are the general guidelines for seat height adjustment:

People that are around 5'0" tall should set the seat height at 14-16."
Those that are high approximately 5'5" should stick to settings between 16 and 18."
People over 6'0" tall should go with a higher heat setting than 19."

Why Is Tilt Also Important for an Office Chair?

Imagine this scenario – you need to get something from a desk behind you, or access a far area of your workspace. Whether you are moving backward or forwards, a chair with a built-in tilt will move with you. That way, you get the required support regardless of the sitting angle.

Apart from the integrated free tilt, you can also look for chairs that allow you to lock them into a single position. That way, you ensure the chair doesn't move from the position that suits you. Feel free to check out our best recliners guide to learn more about the available selection of chairs with a reclining feature.

Don't Forget the Weight Capacity

Another thing to consider when choosing an office chair is its weight capacity. You want to ensure that the product can comfortably support your weight. The majority of office chairs have a weight capacity of between 270 and 350 pounds. If you are dealing with a couple of extra pounds, make sure that the chair can support a bit more than what you currently weigh.

Which Material Is Used for the Chair?

The materials can affect comfort significantly. The most common choices among office chair manufacturers include the mesh, leather, and textile.

The general rule is that mesh chairs are the most affordable ones, and they can provide decent comfort. Leather and textile chairs are considered to be premium class, and their price tag could be higher. However, they provide great comfort and also look classy.

Generous padding is also an important factor if you want to feel comfortable sitting in your chair. That is especially true if you are experiencing back pain and need to sit in your chair for hours.

Does the Chair Have the Necessary Stability?

Finally, you should consider the stability of your office chair. That comes from sturdy construction and a strong base. Bases that offer five-point support provide better stability than those with four claws, although the support also depends on the material.

The casters are usually made of PU, and they offer a 360-degree swivel. Thanks to that, you can move around in your chair easily. However, please note that certain casters are more suitable for specific surfaces. That is why you should consider where you plan to place the chair and choose casters accordingly.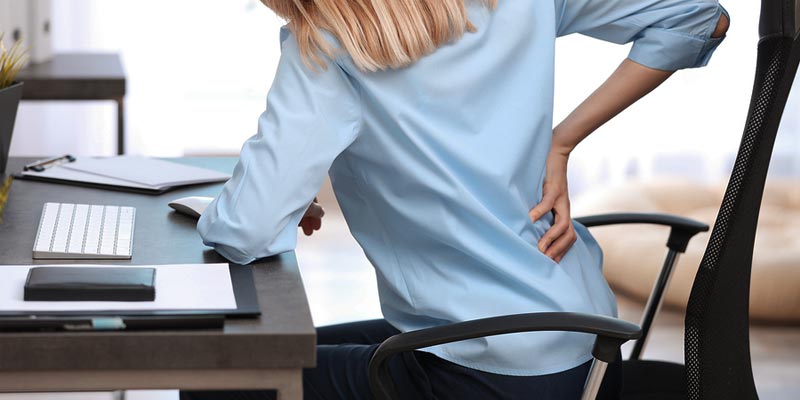 Common Causes of Back Pain at Work
Not a lot of things can compare to experiencing back pain while you are in the office. It can be troublesome to focus on the tasks at hand, and it affects your overall mood. Have you ever wondered what are the common causes of back pain at the office?
Repetitive movements are at the top of the list for office workers. If you are near your PC, then chances are you are typing all day, which involves plenty of movement repetition. Additionally, if you have to rotate or twist your spine (looking at other screens), that can increase the odds of back pain appearing.
Sitting for a long time without being active, or at least stretching, is also a cause of back pain. That is particularly true if you maintain an awkward posture. That is why it is imperative to get a suitable desk and office chair.
Although that rarely happens to desk workers, be wary of moving and lifting heavy items, too. A single wrong move and putting excess stress on your back can lead to strains and other injuries.
Other risk factors include problems with extra pounds, age, as well as your overall physical health.
Causes of Lower Back Pain When Sitting
Now that we established risk factors and what can lead to back pain, it is time to discuss underlying reasons for experiencing pain. If you are sitting down and feeling that your lower back is hurting, the following might be the causes.
Herniated disc

A herniated disc is something that comes with sharp pain. This condition occurs when your discs are under too much stress, and they go out of their normal position. That reduces the space required for nerves and spinal cords. That leads to pain, and you might even experience numbness in that particular area. Herniated discs might happen due to repetitive, but also because of inadequate movement.

Sciatica

If your sciatic nerve is under stress and in pain, you might be dealing with sciatica. The specific thing about this pain is that you won't only feel it in the lower back, but frequently in your legs, too.
Sciatica usually has an underlying condition, and it might be the reason to visit your doctor. Additionally, it would be wise to avoid sitting for hours.

Spinal Stenosis

Imagine a spinal cord that runs through the holes in the middle of your spinal bones. It is that cord that connects the brain and nerves in various areas of your body. If the tube is narrower than required, that might lead to pain, numbness, and weakness. That condition might occur because of arthritis, infection, tumor, or injury, and it can also be genetic.

Degenerative Disc Disease

This is another condition related to discs that are situated between the bones. The major causes of this condition are wear and tear, as well as age. It is vital to note that you might not experience any symptoms during the first several years of degenerative disc disease, which is why regular checkups are vital.

Muscle Strain

The most common injury in the lower back area is muscle strain. It happens when you make a wrong move, which can be twisting your spine or stretching it too far. While this condition is usually not dangerous, you might experience pain for up to a month, or even longer if you don't rest properly. The pain might extend from your back down your legs, and restrict your movement.
7 Ways to Stop Work-Related Back Pain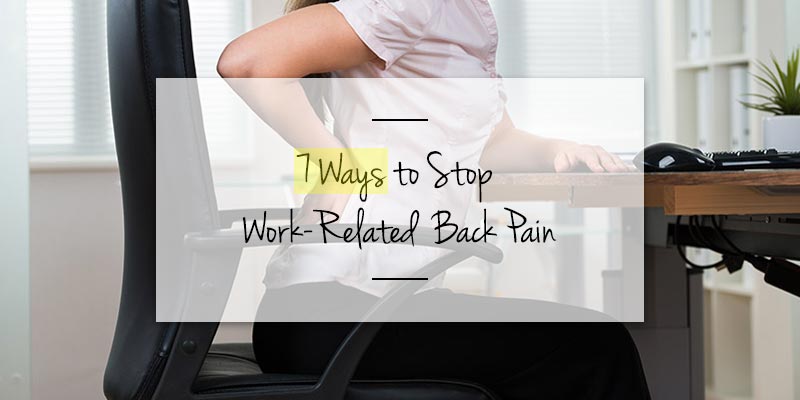 Finding a suitable office chair is the top of the list, but there are other steps that you can take to prevent the back pain that occurs in your office. These are the main tips to apply to stop the odds of this type of pain, even appearing.
Don't Hunch Over the Computer

If you are working on a computer for eight hours, you surely spend at least a portion of that time leaning forward to be closer to the screen. That is not a wise move for back pain, but also long-term back health. Try to maintain an upright posture whenever possible.

Everything Starts with the Head

The first part of the body that you don't want to lean back or forward is your head. If you do that, you put a lot of pressure on your neck, and that might lead to your back suffering later. Keeping your head in an upright position is the best way to minimize pressure on neck and shoulders.

Don't Let Your Mouse Be Too Far

You will need both the keyboard and mouse and both these assets should be nearby. The ideal position is that you can use them without reaching forward too much or twisting your wrist, arm, or shoulder. A mouse and keyboard should be one next to the other.

Your Body Should Be Close to the Screen, Too

The experts recommend that your body should be close to the screen, but still at a single arm's length away from it. Additionally, the position of the monitor should be in line with your eyes, or two to three inches below.

Always Keep Your Feet on the Ground

Dangling feet are the main reason for pain in thighs, buttocks, and lower back. Not only should you keep them on the floor, but also aim that they are shoulder-width apart. That will minimize the tension in ankles and knees.

Find Time to Stretch Your Shoulders

You don't have to get up, but take several seconds to roll them down and back. Squaring your shoulders over the hips also helps. If you experience back pain, you can also do stretching exercises mentioned below.

Avoid Crossing Your Legs

We know that women need to do that sometimes, but crossed legs make it difficult to maintain optimal posture. Whenever you have the opportunity, avoid crossing your legs as that might cause back pain and disrupt blood flow.
The Importance of Sitting Posture for Low Back Pain
Experts believe that your posture is related to pain you might be feeling in your low back. That is particularly true if you spend hours in the same posture, which is often the case when sitting and working in an office.
Pain appearing in the lower back is quite common, but you can combat it by improving your sitting posture. By sitting correctly, you reduce stress on discs, joints, and muscles, and that can help to reduce or eliminate pain.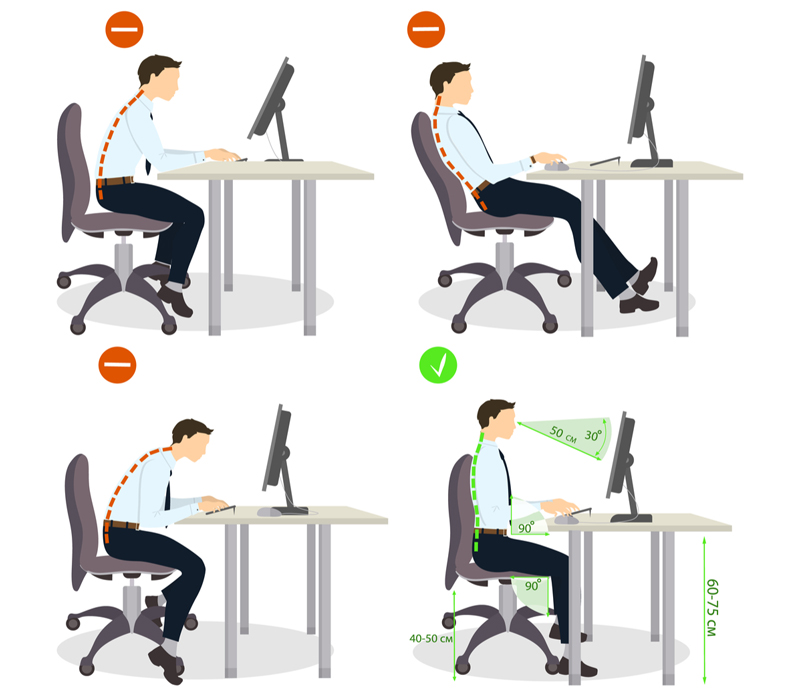 Tips to Apply When Choosing a Posture for Lower Back Pain
You should maintain a 90-degree angle for your hips and knees. Additionally, do not forget to keep both feet on the floor. Avoid crossing your legs or lifting one of them up because that can be uncomfortable when sitting for a long time.
Office chairs often come with casters, which is why you should be careful about keeping your waist straight. Avoid twisting it and keep sitting directly in front of your computer all the time.
Try to keep your shoulders straight and back as much as possible.
If you are standing up, avoid leaning forward and try to straighten your legs. It could be useful to perform stretches and exercises to avoid potential back strains.
Always look to place your forearms on armrests or the desk surface. That way, you reduce the weight off your shoulders and back.
It would be great if you can maintain the position of your chin parallel to the ground.
Finally, try to consider the normal curve of your spine. If you think that additional cushioning might benefit, choose a small towel or pillow. You can take a look at our back supports for office chair buying guide to learn more information about available options to make your back comfortable.
Guidelines for Office Chair Setup:
How to Sit Properly to Decrease Back and Neck Pain
If you want to avoid pain and discomfort, it is crucial to find a suitable office chair. You will be spending eight hours a day in it, and you can't afford it to be uncomfortable.
Ergonomics is your primary concern when choosing a chair — the more options you have for adjusting the sitting position and posture, the better.
5 Steps to Adjust Your Office Chair
You want a chair with an adjustable seating height. It is even better if you find a product that allows you to pick the seating position while you are already sitting down; the adjustment will take minimum effort. Make sure that the desk and your elbows' underside are at the same height to reduce the pressure on shoulders and back.
When picking the desired height, always consider that your feet should stay on the ground all the time. If you keep them dangling, that leads to pain in your legs and lower back. If necessary, you can add a footrest to get a solid ground for your legs.
If the chair comes with an adjustable angle, feel free to adjust the seat to your preference. The chances are these levers and knobs are at the back of the product. Please note that leaning the chair forward is suitable for working hours, and sloping the seat backward for leisure time.
This step is crucial because you will be adjusting the backrest. The idea is to get a proper posture and sit as upright as possible. When it's leisure time, you can relax and lay the chair backward. Make sure to check the cushioning, too. If necessary, use another pillow, towel, or anything else you have at hand.
The last step involves adjusting the armrests. Make sure that you can rest your hands properly on armrests when not typing or working something else. Adjustable armrests are also a nice touch as they allow flipping them to the other side for additional maneuverability.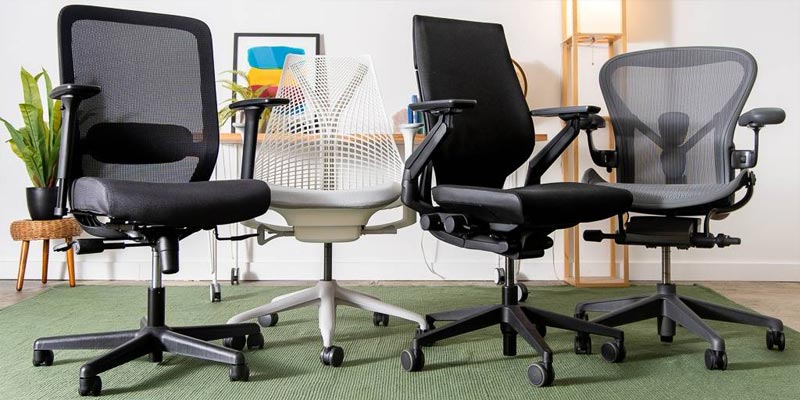 How to Relieve Back Pain: Exercises and Stretches & Remedies
Home Remedies for Lower Back Pain When Sitting
Getting a good office chair is a foundation for preventing lower back pain when sitting. However, depending on the severity of your back issues, you might need to take additional steps. Here are some tips that you can apply to reduce the risk of lower back pain:
Don't stay in the same position for a long time. You can consider taking a break every 30-60 minutes and going for a short walk around the office.
Use heat to your advantage. Most people find that heat helps with the pain and provides an overall soothing effect. That is why you should consider a heating pad to promote blood flow to your lower back.
Try ice treatment. Alternatively, if you are dealing with inflammation, a cold treatment might help. Apply ice packs every couple of hours to experience relief and speed up recovery.
Yoga improves back muscles. Practicing yoga might help to strengthen the muscles and improve stretching capabilities.
Massages are also useful. A single massage will help you feel better, but regular massages are the right way to minimize the odds of back pain reappearing.
If necessary, go for OTC drugs. However, be careful and use NSAIDs only if you can't stand the pain and discomfort. Too much OTCs might cause addiction and other health issues.
Exercises and Stretches for Immediate Back Pain Relief
If you have chronic problems with lower back pain, it is important to strengthen the muscles in that area. You can do that by stretching your lower back regularly, and we are sharing the best exercises to do that.
Plank

Start by taking the position to do a pushup, but put your forearms on the floor. Your shoulders and elbows should be in line. Now, push up on your toes and forearms, but make sure that your elbows do not leave the floor. Additionally, keep your back straight at all times. Stay in that position for several seconds, and then return to the ground.

Bird dog

Keep your back straight, and place yourself on knees and hands. Now, extend the left arm straight out, and do the same with the right leg. Hold for several seconds, and take a small break. Repeat the exercise, but use the right arm and left leg.

Arch

Lie on the ground and put your back on the floor. Place your arms by your sides. Use your back, abdomen, and buttocks to lift your hips off the ground. Stay in that position for several seconds, and then return to the initial pose to rest.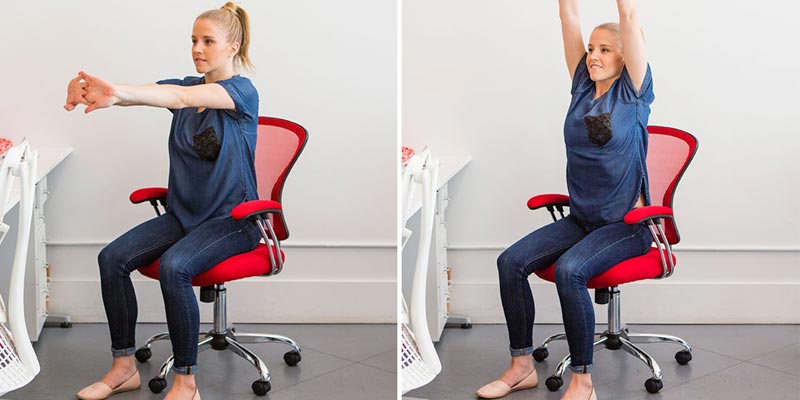 4 Simple Desk-Based Stretches for Effective Lower Back Pain Relief
Only half of your working day has passed, but you are already experiencing back pain. Fortunately, there is a way to secure relief, even while you are at work. You can stay right by your desk and do these stretches to ensure pain relief.
Long Stretch

The idea is to stretch your spinal muscles. Now, start by turning the chair away from your desk and sitting firmly inside the chair. Your feet should be on the ground, and make sure to spread them wide.
Now, sit in an upright position. Move your hands down your legs, and continue moving them until you reach the ground. Put fingertips on the ground, and try to stretch. Make sure that you stay comfortable, and don't go further than your comfort zone. You can stay in the stretched position for about 30 seconds, and repeat this stretch up to three times.

Hamstring Stretch

The truth is that hamstrings might contribute to experiencing lower back relief. That is why you should also do this stretch, which starts by sitting at the edge of your chair. Straighten your right leg in front of you as much as possible. While extending, keep the knee straight and heel on the floor. Move your hands down that leg slowly while keeping the back straight. Stay in the stretched position for about 30 seconds, and repeat with your other leg.

Deep Hip Muscle Stretch

Hips can also be under stress when sitting for a long time. Here is a stretch that you can do to loosen up these muscles. Start by sitting at the edge of your chair, but make sure your feet are on the ground. Place your left ankle on the right thigh. Continue maintaining an upright posture, but use your hips to move forward. Stay in the stretched position for about 30 seconds, and repeat with the left thigh and right ankle.

Simple Lower Spine Stretch

The simplest exercises can be the most helpful. If you can remove the armrests or turn them upside down, this can help with this stretch. Continue sitting in your chair, and find a stable position. Put the right armrest down and place the left hand on the other armrest, which remains in the usual position. Lift the right hand high and above your head. Your spine should be slightly bent. Stay in this stretched position for 30 seconds, and then switch sides.
FAQs & Answers
Q: Why are armrests important when choosing an office chair?
A: If you are typing or working on your PC, then chances are you will place wrists on the workspace. Armrests are convenient because they also allow you to rest your forearms, and reduce overall stress on shoulders and back. It is important that you feel comfortable and that you have an optimal reach with your hands.
Q: What is the best material for an office chair?
A: That is hard to answer because most materials secure decent comfort and breathability. Mesh is known as a breathable material, and textile and leather can also be classy and comfortable. Apart from that material, it is important that the chair offers generous padding in the seat and in the back.
Q: What back angles are optimal to avoid back pain?
A: If you go with a chair that offers a reclining feature, the recline will usually be between 110 and 130 degrees. You can choose a product that comes with a locking mechanism if you want to lock the chair in your preferred position.
Check with our homepage to see if you've missed anything important!
you may also like: choosing a folding chair
[table id=5 /]
Wrap Up
We reached the end of our article on office chairs, and how to utilize them to minimize back pain. As you can see, pain in your lower back can be a serious and chronic issue that comes and goes frequently. It is important that you do exercises and stretches regularly, and take good care of your health by maintaining regular physical activity.
However, finding the best office chair for back pain is the first step to minimizing these issues. There are many features to consider, but the crucial ones are related to backrest, headrest, and armrests. You can find the optimal position of your chair with ergonomics, so make sure that the product comes with all the necessary adjustments.
We hope that the knowledge you got in our buying guide is enough to help you find the ideal chair for your needs. Once you pick a suitable product, you should experience improvement and feel back pain relief quickly.