Just how many times have you had your back hurt all day because of an uncomfortable chair? For those who spend a fair share of their day in the office, it's essential to have ergonomic and office-friendly furniture. Things such as chairs, desks, and organizers should be roomy and comfortable so that you can be more productive.
If you're looking for a chair that can keep you comfortable in the office, we have a promising option that you can consider. The REFICCER Bonded Leather Office Chair has excellent features that make it an investment worth considering.
Its design, build, and quality has earned praise all over the industry. If you are having trouble trusting brands, you'll be glad to know that this one doesn't disappoint. Here is everything that makes this office chair a trustable investment.
Pros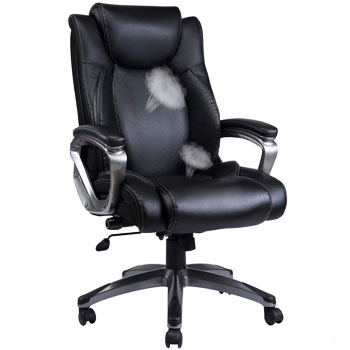 Unmatched Material Quality

If you feel like your chair doesn't match the formal décor of your office, the REFICCER Chair is calling for you! This executive chair gives your office a professional feel with its excellent design and superior build.

The primary material of the chair is foam, which is covered with black faux leather. An extra-plush memory foam padding works to give just the right level of comfort. The high-quality material and durable frame have a stylish appearance that complements your office environment.

Ergonomic Build

This office chair has an impeccable build. The length of the ergonomic back and the lumbar support the chair offers excel when compared to other chairs on the market. The manufacturers of the product have also kept the lumber support adjustable so that you can set it according to your needs.

You can use a knob to adjust the lumbar support's stiffness so that your lower back doesn't get uncomfortable. Simply put, you can slouch back in your chair or sit upright while working, according to your mood.

Check also: Top rated office chairs for back pain

Size

Another feature worth mentioning is the spaciousness of the office chair. No matter what your size, you'll fit comfortably on the chair, which is a huge advantage that comes with buying the REFICCER Office Chair. It has enough room for everyone! While most other chairs barely provide sufficient comfort, this one allows enough room for you to snuggle right in!

Easy to Assemble

If you're not into complex designs and assemblies, this product is for you. It isn't too much of a hassle to align and fix the frame. A simple instruction manual guides you through the steps needed to assemble it, and the whole process only takes a few minutes.

Light on the Wallet

When you already have a tight budget, the last thing you need is to worry about expensive furniture. The manufacturers of the REFFICER Office Chair kept this in mind when deciding the chair's price.

The chair is undoubtedly the perfect option for those of you seeking a low-budget investment. It gives your office a high-end look and gives you long-lasting comfort, without emptying your wallet. Moreover, this product is also built to last you long, so you don't have to worry about replacing it any time soon.

One-year Manufacturer Warranty

To prove their trustworthiness, the manufacturers provide customers with a one-year warranty on this office chair as well.
Cons
Backseat Recline

The chair's backseat reclining mechanism can be a bit problematic for some users. It doesn't tilt as much as other recliners; while many other chairs can tilt up to 150°, this one only tilts between 90° and 110°.

There isn't a lock to fix the reclining angle, either. However, chairs with a large recline can be a deterrent when it comes to being productive at work. Also, the foam material of the chair ensures that your back will remain comfortable even with a limited recline.

Fixed Armrest Height

The armrests of the product are also immobile. However, if you recline the chair a little, your arms can relax even when you've been sitting on the chair for hours.
Conclusion
Our final opinion on the REFICCER Bonded Leather Office Chair? We'd say that it is worth the purchase. The ergonomic build paired with an elegant and practical design gives it a high-end finish. For those looking for low-budget office chairs, we feel like this is a worthy option.