Are you working in an office and spend hours on a computer? Have you ever experienced back and other strains, and pain in your hands? If the answer is yes, that is because you are not sitting in a suitable chair.
If you would like to maximize your comfort and prevent pain and injuries, you need to find the best ergonomic office chair. That is easier said than done because there are so many features to consider, and all of them need to fit personal requirements.
That is why we prepared detailed ergonomic office chair reviews. Our expert team picked seven top-rated chairs and analyzed their pros and cons. You can also check out the most detailed buying guide on the web. It will show you the guidelines you need about choosing an office chair, but also teach you more about ergonomics.
PRODUCT
DETAILS

Duramont Ergonomic Adjustable Office Chair

Price :

$$$$$

Weight Capacity (lbs) :

330

Material :

Mesh

Weight (lbs) :

44,8

Headrest :

Yes

View On Amazon

Smugdesk 1388 Ergonomic Office Chair

Price :

$$$$

Weight Capacity (lbs) :

300

Material :

Mesh

Weight (lbs) :

26

Headrest :

Yes

View On Amazon

Ticova Ergonomic Office Chair

Price :

$$$$

Weight Capacity (lbs) :

280

Material :

Mesh

Weight (lbs) :

40

Headrest :

Yes

View On Amazon

ORVEAY Office Ergonomic Office Chair

Price :

$$$

Weight Capacity (lbs) :

300

Material :

Leather

Weight (lbs) :

34,2

Headrest :

No

View On Amazon

AmazonBasics – Adjustable High-Back Mesh Chair

Price :

$$$

Weight Capacity (lbs) :

275

Material :

Mesh

Weight (lbs) :

32,5

Headrest :

Yes

View On Amazon

Smugdesk 2579 Ergonomic Office Chair

Price :

$$

Weight Capacity (lbs) :

300

Material :

Mesh

Weight (lbs) :

23

Headrest :

Yes

View On Amazon

Herman Miller Embody Chair

Price :

$

Weight Capacity (lbs) :

300

Material :

Textile

Weight (lbs) :

52

Headrest :

No

View On Amazon
Best Ergonomic Office Chair Reviews – ( Editors' Picks )
1. Duramont Ergonomic Adjustable Office Chair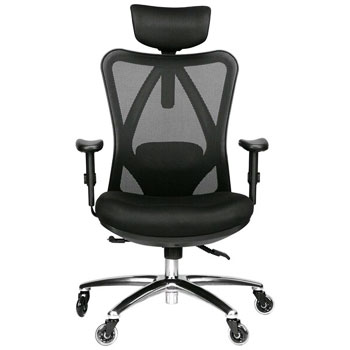 The secret of ergonomics lies in a large number of adjustment options. Duramont understands this, which is why they designed a chair where you can set the desired seat height, lumbar support, armrest height, backrest tilt, and headrest angle and height.
The manufacturer used soft but high-quality materials with generous cushioning. The entire construction is very durable and can hold up to 330 pounds. However, the materials might have a strong chemical smell out of the box. That is why you should consider airing the chair out for a couple of days before using it.
The product includes a headrest, which can be important if you are tall or have neck issues. This, as well as all other components, are easy to assemble. The casters are of high quality, and moving the chair around is simple. Thanks to the reclining feature available, the product provides the required back support.
Read more: Duramont Adjustable Office Chair Review
2. Smugdesk 1388 Ergonomic Office Chair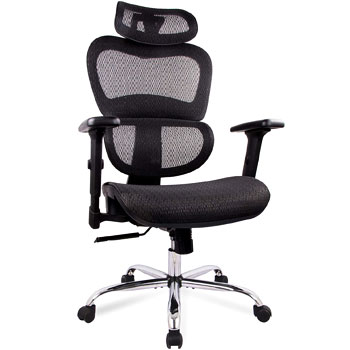 If you are a fan of headrests, you will love hearing that Smugdesk included this component with an adjustable angle and height adjustment to suit the needs of every user. You will also receive the required lumbar support, which is adjustable to prevent fatigue and lower back stress.
Armrests offer the so-called 3D movement. That means you can move them in any direction you want, which means they won't get in the way of getting the chair close to the table. The chair also offers 360-degree rotation and a recline up to 117 degrees. The product is suitable for all those who weigh up to 300 pounds.
The manufacturer used mesh fabric and generous cushioning for optimal comfort. The five-claw legs and PU casters at the bottom are very durable and scratch-resistant. However, they might have some difficulties moving on hardwood floor surfaces.
3. Ticova Ergonomic Office Chair
Ticova designed an ergonomic office chair that looks classy. It is available in two color combinations, but they are both shades of black. As for the construction, it is solid since the manufacturer used high-quality components.
The PA nylon back frame enables the bearing capacity of up to 280 pounds. The manufacturer used durable components, which results in lumbar support being a bit too firm. Although it provides the necessary support, some users might find that a bit uncomfortable.
The breathable mesh allows you to sit in this chair for hours without sweating or feeling uncomfortable. Backrest and headrest both come with an ergonomic design to suit everyone's preference. The headrest features a thick pillow for additional support.
The seat includes a shaping foam that spreads across three inches to ensure optimal comfort and durability. The armrests are tilted and have a PU surface with optimal arm support.
4. ORVEAY Office Ergonomic Office Chair
Unlike the previous chairs we reviewed, this one features leather as the preferred material. That gives it a classy look ideal for offices, but also executive rooms. Bonded leather is a fine choice because of its exceptional strength and impressive water resistance.
The construction is sturdy thanks to five-claw legs and durable PU casters that offer 360-degree movement. The assembly process might be a bit tricky because the instructions don't go into detail. Fortunately, it will be worth the effort because padded seating provides amazing comfort. The controls are intuitive, and you can adjust the chair while you are sitting in it.
Lumbar support is integrated to reduce stress on your lower back. Armrests are also ergonomic and in line with the natural seated position. Tilt mode allows you to recline the chair to a 120-degree angle when the time for relaxing comes.
5. AmazonBasics – Adjustable High-Back Mesh Chair
Here is an interesting chair with a high back, which adds to both aesthetics and functionality. You can pick between black and grey color combinations, and you will get a nicely-designed chair whichever you choose.
The construction is durable, and the base offers five points and 360-degree casters. That makes moving the unit around simple on any surface.
The chair comes with a headrest to provide additional support and comfort for your neck. You can also adjust the seat height, as well as flip-up armrests, if they are in the way of your comfort. The mesh fabric provides optimal breathability and allows sitting in the chair for an entire day without sweating.
A downside of this chair is that it doesn't offer lumbar support, which can be a problem for those with back issues. On the plus side, you can take advantage of multi-tilt locks, and other adjustments to find an optimal position.
6. Smugdesk 2579 Ergonomic Office Chair
Here is another ergonomic office chair designed by Smugdesk. The main difference of this unit is that it comes in the unusual gray color combination (you can also pick a black variation). Additionally, this chair is a true bargain deal if you are looking for affordable price tags.
The manufacturer used breathable mesh to ensure optimal comfort and breathability. Generous cushioning is a nice touch, especially when combined with lumbar support. The headrest is included and adjustable, but the armrests are fixed. Fortunately, they come with an ergonomic design to ensure you maintain a healthy posture.
You can adjust many other things, thanks to the multi-function mechanism. That includes backrest and seat height, which makes the chair suitable for people of (almost) all heights. The base is as expected with five points and PU casters that feature a 360-degree swivel, which is not that smooth but does the job.
7. Herman Miller Embody Chair
This chair is different from all others that we reviewed. It is a luxurious designer chair perfect for executives who want to stand out from the crowd.
The manufacturer used a skin-like textile that ensures optimal circulation and comfort as long as you sit. The construction is strong and the product features five points and durable casters suitable for carpet surfaces. The warranty supports the product's quality as it covers a 12-year period. It is interesting to note that 95% of the materials are recyclable, which makes this an eco-friendly chair.
The chair is very comfortable as it comes with six ergonomic functions available. Lumbar support is impressive, and freedom of movement is also exceptional. It is a shame that such an expensive chair comes without a headrest, or an option to add one. On the other hand, you can choose between no less than 16 color combinations.
What Is an Ergonomic Chair?
Have you ever wondered if the chair you use at work is ergonomic? An ergonomic chair is an adjustable chair designed to fit (almost) anyone who uses it. That means the chair adapts to the person sitting on it to provide maximum comfort and minimize bad posture, and other issues.
Available adjustments are what make the chair ergonomic. The design of these products is made in a way that considers the contours of the human body and adjusts to them. Thanks to that, these chairs secure optimal comfort and are suitable for long-term sitting.
Ergonomic Office Chair Buying Guide
Are you wondering how to choose an ergonomic chair that meets your needs? It sounds like a difficult task with so many products, brands, and different features available. We hope that our buying guide will help you learn more about these products so that you can pick a suitable unit.
What to Consider When Buying an Ergonomic Office Chair
It all comes down to finding a chair that is the perfect fit. Although a chair might be ergonomic, that doesn't mean it will fit everyone. Here is what you should pay attention to during the purchasing process.
What Are the Available Options for Adjusting Seat Height?

We all have a favorite height setting for chairs, and that depends on the desk and our preference. Here are some examples to use as guidelines:

If you are 5'0" tall, you should aim for seat height at around 14-15," with the standing eye height range being 41.5." Elbow height should be 22.5" and distance to screen 20 to 30."
Those who are tall around 5'5" should aim for the height to be around 15.5" to 16.5." You should also increase elbow and standing eye height for a couple of inches, but screen distance remains the same.
If you are 6'0" tall, the ideal seat height should be at least 18." Standing eye height stands at 50."

You don't have to follow these guidelines to the detail because preferences might vary. That is why it is important to get a chair with a wide range of seating adjustments. The general rule is that products with available heights from 15 to 22" have enough options to suit everyone.

When adjusting the chair, aim for your hips to be slightly higher than your knees. Additionally, keep the thighs virtually parallel to the ground. Your feet should touch the floor and rest there.

Pneumatic adjustments offer the easiest way to adjust the height on your office chair. That way, you can pick any setting between the lowest and highest options to ensure the height fits your needs. It might take some trial and error, but it will be worth the effort.

Finding the right height is crucial in your search for the best office chair for back pain, and it will also reduce knee stress.

What Is the Ideal Size of a Seat Pan?

The next consideration is the seat pan, and the primary concern here should be a comfort. You should be able to place a large part of your upper leg when sitting in the chair. At the same time, if you sit back, the pan should touch the back of your knees.

The easy way to discover which size of the seat pan you need is to check your hip width. The experts recommend going with a chair whose seat pan is wider than the width of your hips for at least an inch. Another thing to consider is that you should reach the armrests with your arms comfortably. If you need to stretch to do that, the seat pan is too wide.

How to Choose Weight Capacity

If you want to maximize the longevity of your chair and prevent any accidents, it is important to pick an item with the right bearing capacity. Consider your current weight, and make sure that the chair can hold at least 20-30 pounds more than that.

Manufacturers can be generous when claiming the bearing capacity of their chairs, which is why it is important to leave some wiggle room. It is the best way of ensuring ultimate comfort and securing that the chair will be the right choice.

What Is the Ideal Depth of a Seat Pan?

Here is another neat trick to check if you adjusted the seat pan properly. Seat on the chair, and see how many fingers you can fit between the chair's front and your knee's backside. It would be ideal if you can place two to four fingers.

When sitting in an ergonomic chair, you should take advantage of its lumbar curve. It should decrease the pressure on your back, but you might need to get used to sitting all the way back in your chair.

As for the adjustment of the seat depth, the manufacturers use one of these options:

Knob – the knob allows you to adjust the back depth. By moving it in and out, you find a position that suits you. The problem is that you might have to get up to adjust this knob optimally.
Lever – once you sit in the chair, you use this slider to identify the right position.

Which Chair Mechanism Is the Best?

Ergonomic chairs offer multiple adjustments, and that increases their versatility. The adjusting process is done by using a particular mechanism. However, these mechanisms might vary. A chair can have levers to position the item, and the manufacturers might use different mechanisms in the same product.

These are the most frequently used options these days:

Multifunction Mechanism

As the name suggests, its main benefit is offering plenty of adjustment options. These chairs allow you to pick angles for the seat and the back separately, and they don't depend on the tilt either. In other words, you can pick between an endless range of positions to find the one that suits your preference. The way this mechanism works is that it starts at the seat's center and tilts or rocks back.

Synchro-Tilt Mechanism

Synchro-tilt works the same way as the previous option, which means it tilts from the seat's center. Unlike the multifunction mechanism, this option connects back and seat adjustments. That means you can only adjust them together. The mechanism works by tilting them both back or forth. You can't achieve maximum ergonomics with this mechanism, but it can still do a decent job. While reclining, you might notice the chair pressing into your thighs.

Dynamic Mechanism

It is a simple but popular option that is easy to adjust. The dynamic mechanism adjusts the seat down and forward when reclining, which means there is no tilt involved. However, some units allow you to adjust the desired tension. Some chairs also offer an option to lock the back angle.

Knee-Tilt Mechanism

The name is self-explanatory once again as this mechanism is located beneath the knee, and tilts from there. However, this technique might not be enough for optimal adjustment of the chair, which is why many manufacturers have a separate back adjuster included. Although it is not a common solution, those two mechanisms secure maximum recline, and you can see them in chairs in the executive's rooms.
However, these are not usually applied to gamers and office PC users. If you are going with this mechanism, it would be wise that the chair offers other adjustment options, too.

Task Mechanism

The industry used this mechanism when ergonomic chairs first appeared on the market. It is a basic approach that doesn't secure plenty of freedom in adjusting your chair. The task mechanism focuses on adjusting the back angle and the seat's depth and height. However, it might happen that the chair only allows you to set one of two of these things, which limits ergonomics. The task technique is still used in simple and affordable office chairs.

How to Find the Ideal Adjustment for Backrest Height?

The most frequent complaint that users have about sitting in office chairs for a long time is that their back hurts. That is why this is a crucial setting since you need to find the right position to reduce or eliminate back pain.

The most common way of adjusting the backrest is by sliding it up and down. You will notice that your lower back has a curve, and your task is to ensure that it fits into the curve on the backrest. That way, you secure that the fit will be optimal. Lumbar support can also be adjustable to help you set the right height.

How to Adjust a Suitable Back Angle

The back angle is the next step in securing that your chair has optimal ergonomics. Once you sit down and recline, the chair's task is to support your upper body's weight. That way, it decreases the stress on your lower back.

You might find it helpful to pick the desired back angle and lock the chair in that position. In that case, you need to ensure that the product has a locking mechanism because some chairs don't. Although everyone has their favorite position, you should set the chair between 110 and 130 degrees. That is something to keep in mind while choosing a recliner, but the good news is that most items support that angle range.

While we are talking about setting the back part of the chair, keep in mind that you mind find another knob there. It is a knob that serves to adjust back tilt, which means modifying the force needed to recline to the weight of your body. Please note that some chairs might be counterbalanced to your weight. These chairs do not need to have tension adjustment.

What You Should Know About Lumbar Support

It is important that you can adjust the depth and vertical position of the chair. That is the way to achieve optimal lumbar support. These adjustments are also crucial if two or more people sit on the same chair. That way, everyone will have the freedom to choose the desired settings. Adjustable positions also enable those with lower back problems to reduce the pain and discomfort they are feeling while sitting in the chair.

You can also pick a chair that is not adjustable if you think that its fixed position suits your preference. However, these chairs are rarely suitable for more people, and it takes an effort to find one that fits you.

Should You Be Able to Adjust Armrests, Too?

Yes, a top-quality office chair should come with adjustable armrests. It is important that you can get the lowest point of the armrests to the height below your thigh. That is because your elbow movement remains optimal and undisturbed by armrests.

You can even go one step further and choose a chair with a swing-back arm. That way, when you are not using the armrest, remove it to have full freedom of movement.

The Importance of Base and Casters

The experts recommend that the base should have at least five spokes for maximum stability. If you go with a four-spoke variant, it increases the chances of tipping over when reclining. That is not something you want to happen because it can cause injuries.

As for the casters, you want high quality and durable materials that you cannot break easily. Always consider the position where you will place the chair. If you are using it on the carpet, go with suitable casters. You also have different casters for laminate, wood, or tile. Apart from casters, you can choose glides, which are feet that are flat and do not have the option of rolling.

Do You Need a Headrest?

The headrest is not an essential part of the chair, and many manufacturers do not include it in the construction. However, it can be essential for people who have neck problems. If you are experiencing neck strains when sitting in the same position for hours, a headrest could help you to reduce them. That is because it decreases neck stress and the weight that part of your body has to carry.

What Fabric Should You Use?

It is important that the fabric offers decent breathability. If you are sitting in the chair for hours, you might start sweating and get hot. That quickly leads to discomfort, and it is something that you should avoid.
Apart from the fabric being pleasant, it also needs to have adequate cushioning. That is a crucial factor that contributes to comfort, especially when sitting in the chair for a long time.
What Is Ergonomics?
Did you know that ergonomics is a discipline in science? People who study ergonomics focus on interactions that humans have with other elements. Their main concern is how to optimize the design so that it meets the needs of humans while ensuring the system continues to perform up to expectations, too.
If you analyze the word, it originates from two Greek words, "ergon" and "nomos." We could translate it into "work laws" or "work science." An optimal design that meets ergonomic needs contributes to an ideal environment where the worker and contribute the most.
We could divide ergonomics into three categories:
Physical
Organizational
Cognitive
Considering the topic of our article, our crucial focus is on physical ergonomics, with a particular focus on the workplace.
Physical ergonomics focuses on biomechanical, physiological, anthropometric, and anatomical characteristics that are in any way connected to a person's physical activity. When it comes to offices and workplaces, it is important that the job and conditions for doing it are in line with the workers' capabilities. That is where ergonomics come into play.
If you think about it, ergonomics is crucial for achieving balance. It aims to achieve and maintain a balance between job demands, working conditions, and workers' capabilities. Thanks to that, it can contribute to higher productivity and improved satisfaction at work.
Ergonomic Risk Factors
Ergonomic risk factors are one of the main causes of musculoskeletal disorders (MSDs). These include pain or injuries in muscles, joints, nerves, and other parts of your musculoskeletal systems.
Although numerous risk factors wait you at your workplace, we can divide them into three main categories:
High task repetition
Forceful exertions
Awkward postures that are sustained or repetitive
Let's take a look at the factors that could be considered risky for an office worker:
Work Demands

If you are working in an office, you are surely sitting for hours. Apart from that, risk factors include repetitive motions (keyboard is an example of that), as well as performing tasks without taking breaks or pauses for a long time. Additionally, if you constantly keep the same posture, or maintain the same position, you are also in danger of MSD.

Workplace Conditions

Take a look at the layout of your workplace, and consider whether it allows you to maximize your performance. For example, is your desk too low or too high? Is your floor surface slippery, or your chair is pressing into your body parts? All these can compromise how well you can perform in doing your tasks.

Environmental Conditions

Cold temperatures, or being too hot in your office might also affect your productivity. A chair that is uncomfortable and causes you to sweat can reduce your motivation and focus on tasks at hand.
If you are working from home or need a solution for your leisure time, consider checking out our lap desk reviews and picking a unit that might help you to maximize comfort.
Importance of Ergonomic Seating
We already established that ergonomic chairs can contribute to preventing or minimizing MSDs. Let's dive deep into the importance of ergonomic seating, and see why these chairs are important for particular body parts.
Neck and head

Ergonomic seating should accommodate both the shortest and tallest workers out there. That way, you prevent tension neck, thoracic outlet syndrome, and cervical disc disease.

Shoulders

Ergonomics aims to reduce the load placed on tendons and muscles. The crucial consideration is to avoid keeping everything in your hand while it is placed away from your body. That can lead to frozen shoulder and tendonitis in your rotator cuff.

Elbows

A principle of ergonomics is to keep the working surface below the height of your elbows. That way, you reduce the chances of developing cubital and radial tunnel syndrome.

Hands and wrists

Ergonomics can help to minimize a wide range of potential MSDs, including trigger finger, carpal tunnel syndrome, tendonitis, and ganglion cysts. Principles of ergonomics promote neutral posture and ensure that people with big hands have enough space. At the same time, it secures that small hands can do the work effortlessly, too.

Lower back

Sprains and strains might appear in the lower back, as well as degenerative disc disease. Ergonomics works to minimize bending forward to reduce the weight on your back.

Legs

MSDs might also attack your legs, but ergonomics can help to counteract potential issues. The crucial principles, including allowing enough space for long legs, but also ensuring that people with shorter legs have adequate stability and comfort. That frequently includes adding footrests.
Never underestimate that ergonomic seating improves the overall satisfaction of employees, or people using a particular chair. That reduces absenteeism, promotes quality of work and productivity, and enhances focus and motivation.
Benefits of a Quality Ergonomic Office Chair
Now that you are familiar with the basics of ergonomic seating let's discuss why it can be important. Industry experts determined why ergonomics are important for an individual and the business
Reduced injuries and risk factors
Individuals that develop MSDs because of ergonomic risk factors are entitled to worker's compensation. The statistics indicate that more than 30% of these compensations are paid for MSDs. At the same time, workers are away from work for a long time, and they usually go through pain and discomfort, which is never pleasant. Ergonomic seating reduces potential risk factors that lead to MSDs, which is how they can help both individuals and businesses.
Better productivity
This one is a no-brainer because optimal seating prevents demanding movement, and ensures you don't feel pain or discomfort even when sitting for hours.
Improved satisfaction
You will feel better if you work in pleasing conditions. That could enhance your productivity but also affect the quality of work. Ergonomic seating is a requirement to give your best, especially when working on long and demanding tasks.
Enhanced company reputation
A business that nurtures ergonomic seating promotes optimal working conditions for everyone. Thanks to that, the company improves its reputation for nourishing a safe culture. In a world where high-quality talents need to be attracted in different ways, that can be a crucial asset in proving that your business is the best destination for a worker. Additionally, you will ensure that your current employees feel satisfied with your company.
Ergonomics of Office and Workplace
The employer's task is to adapt the workspace to the requirements of their employees. If we are talking about an office worker, that means getting a proper chair and positioning it to fit well with the table, as well as ensuring adequate equipment to perform the necessary tasks.
In a workplace that doesn't have optimal conditions, these risks appear:
Non-accidental injury – maintaining an awkward posture for a long time, especially while performing repetitive motions, might cause pain, strains, and other injuries.
Accidental injury – these might happen if you drop a keyboard on your toes, or you fall from a chair.
How to Improve Office Ergonomics
Take a look at these guidelines that might help to improve office ergonomics yourself:
You should always find support for your arms' weight. Failing to do so results in putting too much pressure on the shoulders and neck.
It would be ideal if you could keep your head directly above the neck, and minimize tilting your head back and forth.
Try to sit properly and maintain optimal posture. Instead of leaning on your desk to read the screen, try to sit upright, and use the benefits of your ergonomic office chair.
The monitor shouldn't be higher than in line with your eyes. Sit directly in front of the monitor, and place the keyboard in front of you. The idea is to minimize neck and head movements. Your monitor shouldn't be too close, either. The best way to measure this is to keep it for an arm's length away or more.
Don't talk on your phone while you keep it between your ear and neck. It can cause pain in seconds, and you are probably aware of that if you ever tried this.
Allow your eyes to rest by finding objects at the other part of the room and looking at them.
Always keep your feet on the floor. If you can't do that, avoid dangling by using a footrest.
You can check out our desk lamp buying guide to find a product that will improve lighting in your working area.
Adjusting an Ergonomic Office Chair in 6-Steps
Would you like to know how to find the perfect position for your ergonomic office chair? That is not an easy task as it involves several steps. However, it is important to do it properly to maximize the benefits of your chair and investment.
Here is a step-by-step guide to adjusting your ergonomic office chair correctly.
Step 1: Start with the Height of the Chair

You will find a lever on the chair's side. Arrows should indicate the directions, so choose the desired one. The important thing is that the desk and your elbows' underside are in line with each other. You will have more options available with a standing desk.

Step 2: Can Your Feet Reach the Floor?

Yes, that is also extremely important to avoid strains and other MSDs. You want to test this by sitting in your chair and positioning yourself all the way back. If your feet can reach the floor, that's great! But if not, consider using a footrest to optimize leg positioning.

Step 3: Find the Right Angle

You can adjust the seat of an ergonomic chair to stay horizontal or put it at a slight angle. In those chairs equipped with this adjustment, you will find it at the backside of the chair.
If you pick to slope the seat backward or place it in the horizontal position, it can be great for feeling relaxes and comfortable. However, if you notice that you are too far from your desk, consider repositioning. You can also lean it forward to reduce the stress on your thigh, and optimize back posture.

Step 4: It's Time to Adjust the Backrest

You can find the backrest adjustment lever on the right side of the chair, although it depends on the model. Now, if you are at work, it is important to maintain a neutral and proper posture. On the other hand, if you are at a meeting where there is no PC involved, you can consider relaxing a bit more.

Step 5: Is Your Backrest Okay?

The cushioning should be generous on your ergonomic office chair. If you have adequate cushioning for your low back, everything else will be easier.
Ergonomic office chairs come with a wide variety of backrest adjustments. Your product might have a knob or lever, which is why it is important to find how you handle the adjusting. If you can't find a lever or knob, try pulling the entire chair gently. If you pull it upwards, you might notice the chair changes positions and clicks. Keep moving the item until you find the optimal position.

Step 6: Armrests Are the Only Thing Left

It is important that armrests allow you to get as close to your working surface as you consider to be fitting. Some chairs allow you to move armrests below the seat pan so that you have optimal maneuvering.
FAQs & Answers
Q: How long will it take to assemble an ergonomic office chair?
A: Each product should come with detailed instructions that explain the assembly process step by step. If you follow everything carefully, it shouldn't take more than 15-20 minutes to assemble the chair.
Q: How to clean an ergonomic office chair?
A: Make sure to read the product manual and the "care tag" label on your chair. You can find information about how to maintain your product there.
You can use a paper towel to eliminate any loose debris when cleaning the chair. Vacuuming the chair is also allowed, as well as using a mixture of water and warm soap to clean the fabric.
A damp cloth might help you to deal with spills and stains. However, it is important to act right away and let as little time pass as possible.
Q: How long do ergonomic office chair last?
A: That will depend on the quality of construction, as well as how frequently you use the chair, and how well you maintain it. A warranty is a fine indicator of how much the manufacturer thinks their product will last. If you take care of the chair well, there is no reason why it shouldn't last for years to come.
Top Ergonomic Office Chairs Comparison Chart
| PRODUCT | PRICE | WEIGHT CAPACITY ( Pounds ) | MATERIAL | WEIGHT ( Pounds ) | HEADREST |
| --- | --- | --- | --- | --- | --- |
| Duramont Ergonomic Adjustable Office Chair | $$$$$ | 330 | Mesh | 44,8 | Yes |
| Smugdesk 1388 Ergonomic Office Chair | $$$$ | 300 | Mesh | 26 | Yes |
| Ticova Ergonomic Office Chair | $$$$ | 280 | Mesh | 40 | Yes |
| ORVEAY Office Ergonomic Office Chair | $$$ | 300 | Leather | 34,2 | No |
| AmazonBasics - Adjustable High-Back Mesh Chair | $$$ | 275 | Mesh | 32,5 | Yes |
| Smugdesk 2579 Ergonomic Office Chair | $$ | 300 | Mesh | 23 | Yes |
| Herman Miller Embody Chair | $ | 300 | Textile | 52 | No |
Wrap Up
If you are working on a computer, it is crucial to acquire an ergonomic chair. Not only will it ensure optimal comfort while working for hours, but it will also minimize potential strains and other injuries that inadequate posture might cause.
We hope that our ergonomic office chair reviews gave you enough information about the top-rated office products currently available on the market. Our team also tried to prepare a detailed buying guide and not miss a single topic regarding ergonomic chairs and seating. We believe that knowing enough about these products is the ideal way of selecting the best ergonomic office chair for your needs.
It is important that you don't rush your decisions. These chairs are a vital investment as they promote both overall health and well-being. That is why you should be certain that you picked an item that suits your preference and performs up to expectations.