It's necessary for office furniture to be sturdy and comfortable. Sturdiness is important because the sturdier a piece of furniture is, the more durable it will be as well. Likewise, it's essential that office furniture be comfortable so that employees can feel relaxed while they work for long hours.
An uncomfortable office chair can make one feel frustrated and agitated, which can potentially get in the way of work too. A comfortable chair, however, helps one feel at ease, and makes it easier to bear challenging workplace situations. It is due to these reasons that it is essential to invest in brands that are reliable and can provide you with the comfort and quality that you are looking for.
AmazonBasics products are reputable for being reliable and cost-friendly. Various products sold by the company have topped best-seller lists in many categories over time and are wildly popular amongst consumers. This is just one of the reasons why the AmazonBasics Big & Tall Executive Office Desk Chair is worth purchasing if you're looking for a comfortable addition to the office.
Here is why we think this product is worth considering:
Pros: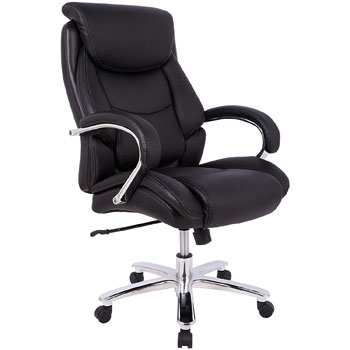 Seat Height

Not only is this seat big in terms of width, it's also very tall. Hence, it can provide ample back support. It also features a seat height adjustment, making it possible for people to change the height of the chair according to their own, and find an adjustment that is most suitable for their comfort. This feature makes it easier for you to sit down at work for a longer time. It also ensures that their time is spent productively.

Quality Of Material

The chair has a high-quality leather exterior, giving it a professional look that is perfectly suited to professional office environments. Moreover, it also attributes to the chairs durability, making it a worthwhile long-term investment.

The chair has been built keeping full body support it mind, featuring ergonomic back padding, cushioned armrests, and a spacious padded seat cushion. All this ensures that you can feel comfortable and at ease while working in the office- especially for long hours. It also makes sure that your body will not have to deal with back pain or any stiffness.

Flexibility

The chair has a solid 5-point base with a 360-degree rotation and hooded caster wheels, allowing you to roll and pivot across the office. This is suitable for an office environment as multitasking is often required.

You may need to interact with various individuals, perform numerous different tasks, or simply keep an eye on a number of different tasks at the same time. The chair has a more spacious seat than most traditional office chairs do, providing you unrestricted freedom of movement as well.
Cons: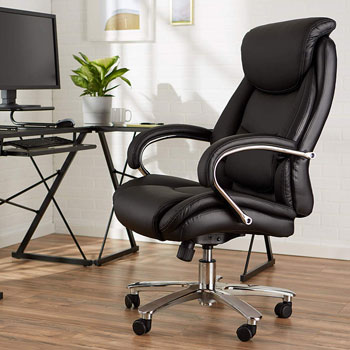 Putting it together

In comparison to most office chairs, this one is slightly more challenging to assemble. It can take a long period of time, and it is difficult to make the arms fit into the rest of the chair. However, while assembling the chair can potentially be a chore, putting in the required effort initially is worth it due to the comfort the chair can provide.

It is a high quality chair offering ample back support, ease, and flexibility, three aspects which are essential for a good office chair. Hence, the initial investment of time in assembling the chair is a worthwhile one.

Seat cushioning

Some people don't find the cushioning of the seat comfortable enough and have complained that it can feel too hard at times. However, this complaint usually comes in the first few days of use.

After the chair has been used for a certain period of time, the cushioning becomes softer, making it comfortable enough to be used for long periods. You may also choose to buy a soft cushion to place on top of the chair, so you can use it comfortably for the first few days too.
Conclusion
In short, the AmazonBasics Big and Tall Executive Chair ticks all of the boxes essential for a good office chair: sturdiness, durability, appearance, and comfort. According to the company, this is one of the top rated office chairs for back pain. Taking this into consideration, it is a purchase worth thinking about.