Offices always require comfortable and ergonomic furniture. Chairs, desks, organizers, and other items should be sturdy enough to last at least a few years. To get the best products, you should make sure that you invest in products from reliable brands. This is because office furniture plays a significant role in making your work routine bearable and relaxing.
Duramont is one of the world's leading manufacturers of office furniture. They are known for their innovative designs and creative styles that can give your office a great look. In terms of material quality, build, and ease of use, Duramont qualifies as a trusted brand for many people. The Duramont Adjustable Office Chair is an excellent addition to your office environment.
Check The Latest Price on Amazon!
Here's what we like about the office chair:
Pros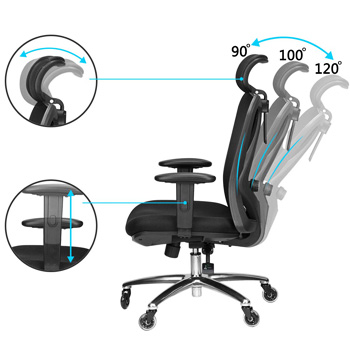 Fully Adjustable

You can adjust the chair in every manner you want. The headrest's height and angle can be adjusted according to your requirements. The depth and height of the lumbar support is also adjustable. You can determine how firm or relaxed you want the chair to be, as well.

What's more, you can change the position and distance of the armrest from the seat. Lastly, the tilt of the backrest and the height of the seat is completely adjustable as well. You can keep your office chair upright at an angle of 90° or recline it up to 120°.

Comfortable

A daily 9-5 job at the office is no piece of cake. Even if you're earning from home, you need some comfortable furniture to help you get through the day. This Office Chair by Duramont is pretty ergonomic for daily use in all sorts of work environments.

The black mesh material is breathable and prevents stiffness or discomfort. The breathable material also keeps the air circulating through the chair, so that you don't sweat. The back support is useful for people with backbone problems, as well.

The chair can recline backwards so that you can rest your back while working. If you're tired, you can also take a quick nap on this office recliner!

Quality of Material

Duramont is often appreciated for the effort they put into their material quality. To ensure long-lasting, satisfying performance, the Duramont Office Chair is also made of high-quality materials. The cushion seat, headrest, armrests, and rotating wheels are made using strong materials to give the chair a professional look.

The chair's metal structure also makes it quite sturdy. The office chair from Duramont is designed to survive years of daily strain in your office without any significant wear or tear. It can also support up to 335 lbs. of weight.

Easy to Install

The Duramont Adjustable Office Chair is easy to assemble and install. The design is simple, with knobs and latches, to secure different parts in place.

The instruction manual guides you through eight easy steps. After assembling, you can adjust the angles to find a position that suits you the most.

Money-Back Guarantee

The office chair from Duramont comes with a 3-month money-back guarantee. You can test the chair during this time and get help if you face any issues.
Cons
High-End Budget

To purchase the Duramont Adjustable Office chair, you'll need a slightly big budget. This chair is priced slightly higher than others you'll find in the market, but for some solid reasons.

First, the material quality is much better than the cheaper and lower priced options. Secondly, this chair is also durable – so it lasts long without going out of use. Hence, this investment will turn out to be fruitful. If you're able to afford the chair, you can forget worrying about other products for a long time.

Stiff Cushion Seat

Some people find the cushion seat of the office chair a bit too stiff for them. However, this is initially because the chair is new and unused. The cushion takes some time to soften under your weight. Once you've used the chair enough, you will find that the irritating stiffness is no longer there!
Read also: Reviews of Ergonomic Office Chair
Check The Latest Price on Amazon!
Conclusion
In short, this Duramont Adjustable Office Chair is a nice option to consider for your office. If you want something which is comfortable as well as long lasting, Duramont can fill those boxes for you.