Studies and professional life are tough to handle. People often have to stay up throughout the night to get their tasks done. Taking this into account, people need to have a suitable light source at night to prevent our eyes from getting weak or damaged. Most people opt for regular lights, but in contrast, many others find LED lamps to be a more suitable option.
Desk lamps are more comfortable to use because they're portable, flexible, and provide just the right amount of brightness. Some LED lamps are eye care sensitive, freeing you from worries about ruining your eyesight! One of the most popular options that you can go for is the TaoTronics TT-DL13B LED Desk Lamp. The manufacturers of this device have taken into consideration all the finest aspects of a versatile and useful desk lamp.
Here are some features that make this TaoTronics LED Lamp worth a try.
Pros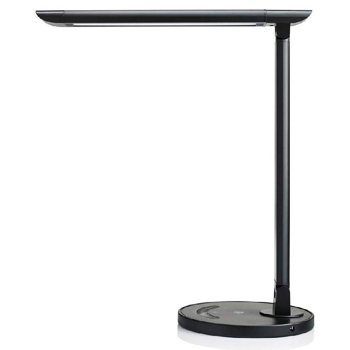 Handy Design

The primary purpose of an LED Lamp is portability and flexibility. This desk lamp from TaoTronics doesn't fall short of these two qualities and brings you a satisfying customer experience. The TT-DL13B Lamp has a sleek and slim metal body that is easy to carry around like a handheld flashlight.

You can smoothly control the direction of light by adjusting the neck and the base of this lamp. The head tilts 135° upwards and swivels at 180°, while the base tilts down to 150° and swivels at 45°. There are built-in touch controls that allow you to change the settings with merely a finger tap!

Changeable Brightness and Light Modes

Plenty of prototype desk lamps come with a simple, standardized setting of light and limited levels of brightness. This TaoTronics LED Desk Lamp makes sure to cater to your need for different lighting and brightness settings. Of the 5 varying color temperatures, you can choose the one that suits your mood.

Moreover, the brightness is also dimmable (7 levels of brightness), so you can simply relax while you work. There is no reflective glare on the screen, so the light is pretty comfortable to use. This lamp is considerate with the eyes' direct exposure to light and doesn't damage your eyesight.

Economical

LED lights, like this one, are made to keep electricity bills under control. The TaoTronics TT-DL13B Lamp is also one of the highly-rated desk lamps available in the market. It operates on DC 10 Volts and 1.2 Ampere with a power of 12 watts. The 410 lumens LED light saves up to 75% on your electricity bill, too.

Color Options

This desk lamp from TaoTronics is available in four different color and texture choices. The Black, Black Wood Grain, White, and White Wood Grain pleasantly blend in with varying interiors of a room. Their appearance is high-end and suits contemporary looks.

USB Charging Port

Another feature that we fancy is the USB charging facility. The USB charging port's output is 5 V or 1 Amp. You can connect your cellphone and other chargeable devices to the USB port while you work. This way, all your important devices are within easy reach while you carry on with your work.
Cons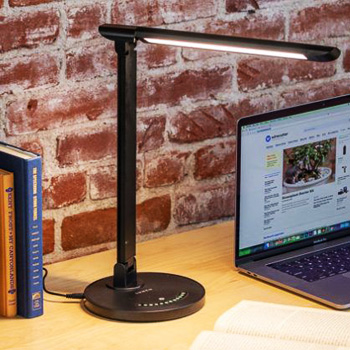 Complicated Use

One feature that may be off-putting is that this desk lamp is a bit difficult in initial usage. The control mechanism and angle adjustments are a bit tricky. But once you get the hang of it, this lamp becomes easier to use. A user guide is also provided to assist your first-time usage.

Heavy Duty

This LED lamp, as opposed to its counterparts, is a tad bit heavy. The main reason behind its extraordinary weight is its metal body. The metal structure ensures long-lasting use and also gives a very firm grip to the base of the lamp. Therefore, this heavyweight also has important advantages for users!

Large Plug

Some users complain that the power adapter's plug is too large for their power socket. If that's a problem you face, we recommend you use a plug extension to fit your socket.
Conclusion
If you find yourself hunched over studying or working often at night, save yourself the pain of damaging your eyesight by investing in a good lamp. For us, the TaoTronics TT-DL13B LED Desk Lamp is a remarkable investment that aptly caters to a comfortable lifestyle choice.