Gone are the days when people found recliners to be a luxury furniture item. Recliners have now gained more preference over traditional sofas in almost every modern household. Certainly, recliners do have their advantages and can perform functions that ordinary chairs and sofas aren't capable of. They're relaxing, more durable, more fashionable, and quite ergonomic as well.
If you want your recliner to give your living room or patio a transformed appearance, there are some determining factors. For instance, you should know the design you're looking for, the color, the material, and the mechanism.
If you're looking for a power recliner, you can consider the Signature Design by Ashley Yandel Power Lift Recliner. The recliner is a fancy but useful piece of furniture and is popular due to a couple of reasons.
Check The Latest Price on Amazon!
Here's why we think you might like this power lift recliner.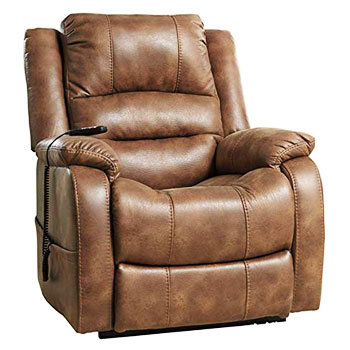 Pros
Automatic Adjustment

Power recliners such as this one by Ashley Furniture bring a new level of comfort for their users. You can operate the recliner with only a single button. You can find the best position for yourself to take a nap or use the Yandel Power Lift as a regular living room chair. Lift your legs or recline your back as much as you want, just with the touch of a button.

Outstanding Build

Signature Design by Ashley has keenly focused on making the recliner a reliable one. The corner-blocked frame is designed to withstand a powerful impact. The metal reinforced structure and footrest guarantee long-lasting performance.

What's more, the trim head nail and tufting make the recliner sturdy. The affordable leather-like upholstery is thick poly fiber. It is available in two colors (black and saddle). This gives the power recliner a lavish, warm, and appealing look as well as maximum comfort!

Roomy and Plush

The Yandel Power Lift Recliner has received a lot of appreciation due to one crucial factor, its multifunctionality. You can use it to watch television, read the newspaper, take a power nap, work on an assignment, or feed your toddler. This recliner has a use for every person in the family.

The bustle back lumbar support is unparalleled and helps your body to relax. The oversized recliner has dimensions of 40L X 35W X 42.5H inches and can easily support a full-grown, heavy adult.

The recliner is roomy enough to allow you to curl up and binge-watch your favorite shows all night long. With extra cushions and pillow-top armrests, you can turn this recliner into one of the most relaxing pieces of furniture!

Easy to Assemble

Despite its heavy-duty size and appearance, the recliner is actually quite easy to set up. The instruction manual is detailed and gives exact placement guidelines for every part. The whole process is quite simple and hardly takes more than an hour to complete.
Check also: Top Rated Recliner Chairs
Cons
Power Outage Issues

On a regular day, the recliner works perfectly on its own. All you have to do is use the button to control for reclining, tilting, or adjusting. However, if your power goes out, there's no way you can change the position of the recliner. It'll remain stuck that way until the power returns.

To avoid such an inconvenience, we have a solution for you. You can activate an emergency power back-up with the help of two 9 volt batteries to power the recliner motors. You can also use an alternate power supply, such as a UPS, to activate the recliner's button.

Limited Footrest Height

Another complaint users usually have regarding the recliner is that its footrest doesn't rise high enough. At 16 inches, the footrest is satisfying for most customers. However, if you're facing this problem, here's what you can do.

You can lift your legs up further by adding cushions underneath. To recline horizontally, you can adjust the position of the lumbar support, the headrest and the footrest altogether!
Check The Latest Price on Amazon!
Conclusion
We do recognize the variety of functions that come with the Signature Design by Ashley Yandel Power Lift Recliner. It's a big, roomy, and heavy-duty recliner available at an affordable price. Not only does that make the recliner a worthy investment, it's sleek design also means that it would be a pleasant addition to your furniture collection.