Modern recliners come with a variety of adjustable features. Many trusted brands manufacture reclining chairs that are more than just durable. They also focus on style, design, ergonomics, and comfort of the product. If you go for a brand that has a positive reputation, you're sure to find the best furniture to invest in.
Flash Furniture is one of the most reliable manufacturers of comfort furniture in the market today. If you're willing to invest in heavy-duty recliners, you can consider their Flash Furniture Contemporary Multi-Position Recliner and Ottoman. This low budget recliner is a popular investment for home décor and is also one of the safest options out there.
Read on to find out why the Flash Multi-Position Recliner is an excellent investment for customers like you!
Pros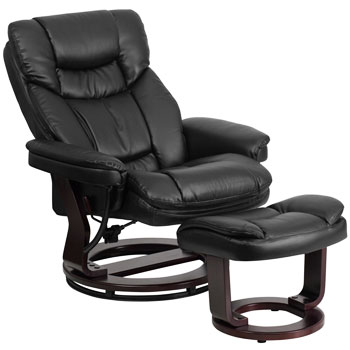 Elegant Design

One feature that makes this Flash Recliner a likable option is its well-crafted design. The LeatherSoft upholstery with a mahogany frame is designed to achieve the coziest feel.

The recliner and the Ottoman are carefully covered with high-quality leather-like fabric in a way that makes minimal look fancy. For people who don't like bland and basic furniture, the plush armrests and headrest cushion compliment the recliner perfectly.

Color Options

Most manufacturers barely put in any effort for creating a variety of color options for customers. Unlike the rest, Flash Furniture has built this recliner in four colors. You can find the one that appeals to you the most, and one that matches your room's interior and the rest of the furniture.

The four options to choose from are Black, Beige, Brown, and Vintage Brown. All these colors have a grandeur of their own and can liven up any room you place your recliner in!

Quite Comfortable

For those with back pain issues, this recliner is a must-have. The sponge backrest, armrests, and headrest go all out to give you the utmost comfort.

The recliner hugs the base of your spine to keep it relaxed for hours at a stretch. You can work, watch over your kids, or simply doze off in this multipurpose recliner.

Easy to Adjust

This feature is what really makes the Flash Contemporary Recliner worth an investment. This ergonomic recliner and ottoman set comes with a lever to adjust the recliner's angle to fit your requirement.

If you want to lie flat, the Ottoman comes in handy because you can simply set it in front of the recliner and rest your legs on top. The Ottoman can also be used separately for other purposes. This recliner and Ottoman set occupies lesser space as well, so it's worth considering for small-sized rooms.

Economical

Last but not least, the product has an economical and affordable price tag. This recliner chair set gives a high-end look with one of the lightest price tags.

This type of material quality, durability, and ergonomic design at a low price is challenging to find. The set is also made to last you long enough without affecting its performance.
Cons
No Special Features

Most acclaimed recliners these days come with additional features such as massagers and vibrators. The downside to this Flash Recliner is that it lacks any such options.

However, the build and material of the recliner doesn't fall short of providing you with a suitable level of comfort. With a price tag that's light on your wallet, you don't really need any additional features in this recliner set!

Fragile Build

Another problem that makes us slightly uneasy with the product is its material build. The LeatherSoft upholstery isn't real leather and the wooden base also doesn't look that sturdy.

To make up for the light materials, the manufacturers have focused on the building techniques. Despite being built with inexpensive materials, the recliner can easily support up to 250 lbs. of weight.
Read on for more reviews of reclining chairs.
Conclusion
To conclude our final thoughts, we'd like to say that the Flash Furniture Contemporary Multi-Position Recliner and Ottoman is a promising investment. The superb build and stylish design are popular with both contemporary and minimalist lifestyle lovers. This recliner chair gives you an appreciable level of comfort. Moreover, it is also easy to assemble and adjust.