If you plan on working from home, then it is essential to have a desk that is comfortable, adjustable, and spacious enough to ensure that all of your needs are covered. You may have a home-based job, be doing office work at home, or have other tasks to accomplish.
No matter what the task at hand is, you will need to have a space where you can feel at ease and be able to work for a lengthy period of time. For this purpose, you need to make sure that you invest in a brand that creates reliable products.
ApexDesk is a popular manufacturer of desks in the market today. Their products are known for being affordable and adjustable. In April 2015, the company launched its Elite Series which has also been popular among consumers.
One of its best products is the Apexdesk Elite Series Height Adjustable Electric Standing Desk. This product can be an excellent addition to a work environment, whether it's in a home or an office.
Here is why we think this product is worth considering:
Pros: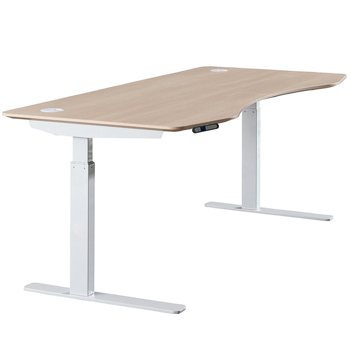 Can Be Adjusted Easily

One highly convenient feature of this product is its electrical lift system to adjust height. The system has a fast speed of 1.5" per second, which allows the desk to move anywhere between 29" to 48". The dual-motor system is both quick and quiet, ensuring that any adjustments can take place with minimal distractions.

Quality of Material

The MDF wood top of this product gives it a highly elegant appearance and ensures its strength and durability. The matte finish of the wooden top makes the desk easy to clean and maintain, as well.

The beveled edges of the top, and the gloss finish off-white base give the desk a streamlined and sophisticated presentation. The appearance of the desk is enough to assure you that a professional work environment can be created at home. The minimal design of the desk also suits many different kinds of interiors.

The desk can be appreciated for its solid construction. It comes with a frame made of industrial-grade steel and a MDF desktop, which allows the product to support a weight of up to 225 lbs, and makes it easy for you to create your ideal workplace setup.
The 60" x 28" x1" contoured desktop can also provide you with adequate space to perform various office tasks. The one-of-a-kind structure of the product also allows for it to be assembled in under an hour.

LED Control

An excellent aspect of this product is the elegant 6-button programmable controller it comes with. It consists of 4 customizable presents for desirable desk heights. This feature is extremely convenient as it allows one to switch from sitting to standing throughout the day comfortably.
Check also: Top rated office desks
Cons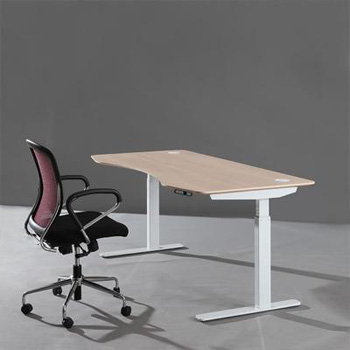 The Wires

One common complaint about this desk by users has been regarding its wires. Once you're done installing the product, the unused wires just hang down. Since, these wires are quite long, this can create an inconvenience in the house.

In order to fix this issue, you will need to buy some cable clips (such as 3M clips with a sticker foundation), which you can attach to the desk. For other wires, such as your desk cords and your extension cords, you can purchase a cable tray. While this issue can be frustrating when you buy the product initially, it can be fixed with certain adjustments and no longer be an issue.

The Desk Surface

The surface of the desk may get scratched easily sometimes. Some users have mentioned that a short period after using the desk, they placed a product on the surface that ended up leaving a mark. However, this can be sorted out if you can place a protective cover or thin plastic sheet on top of the surface so that it is not exposed and protected from any possible scratches.
Conclusion
To conclude, the Apexdesk Elite Series Height Adjustable Electric Standing Desk provides you with a lot of features that make for a great desk. It offers adjustability, comfort, durability, and professionalism as well. Taking into the excellence this product has to offer, it sounds like a worthwhile investment.