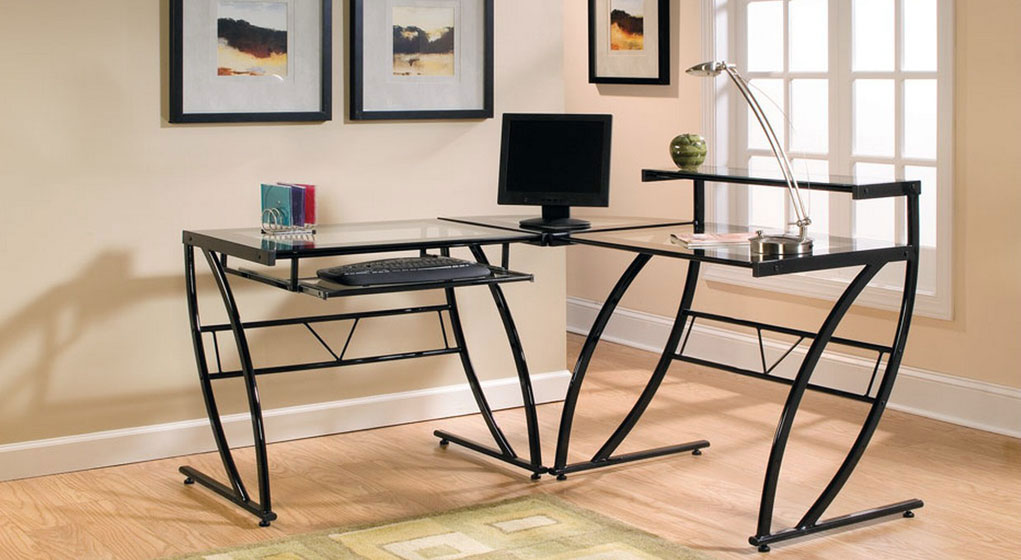 The Z-Line Belaire Glass L-Shaped Computer Desk is a popular contemporary office desk that is great for the paperless and minimalistic office. When you want to bring a modern look to your office environment, you can do so using this great looking desk.
This desk has received awards for the best desk of the year and it's not surprising. With great features like a safety glass clear surface and a raised monitor shelf, it has everything that you need to set up your modern office. It is also easy to assemble and lightweight. Once assembled, you will be able to move it around your office with ease so that you can find the best place to use it.
Find out about all these great features and benefits along with many others in this great and in-depth review.
Check The Latest Price on Amazon!
Features of the Z-Line Belaire Glass L-Shaped Computer Desk
If you want to set up your computer on this desk, you'll be able to do this. It features a pull-out glass drawer and a glass shelf. The drawer is intended for you to rest your keyboard and mouse on and it will conveniently slide under the main work surface when you're not using it. The glass shelf is shallow in comparison to the main work surface and is ideal for standing a monitor on.
The desk is easy to assemble and it will not take long for you to have it set up and ready for action.
The clear work surface and lack of drawer space will ensure that your office is free from clutter and instead offers a contemporary look.
The modern design will brighten up your office environment and will match your existing minimalistic décor.
The corner section of the desk is a convenient place to stand a printer or to use for anything that doesn't need to move often.
Benefits of the Z-Line Belaire Glass L-Shaped Computer Desk
The L-shaped design of this desk is ideal for using your office space as much as possible. Position the desk in a corner to maximize your work area.
Having an L-shaped desk will ensure that you can move from one surface to another, effectively doubling the amount of desk space that you would normally expect to have.
You can be sure that this desk will last for a long time thanks to the high-quality construction. The reinforced welded joints that make up the frame ensure that the desk will be able to take plenty of weight.
A black powder coated finish on the frame ensures that it will not rust and that it will look great in a modern office. The shape of the frame looks stylish and is completely visible thanks to the clear glass work surface.
You can be sure that this desk will not scratch easily and that it will be completely safe as the surface is made from tempered safety glass
Pros
Tempered clear glass surface ensures that it will be safe and scratch resistant
Monitor riser shelf and pull out keyboard and mouse shelf allow you to set up your computer on this desk
Powder coated glossy black frame gives a contemporary appearance and a high-quality finish
L-shaped desk offers double the amount of workspace that you'd expect from an in-line work desk
Simple assembly allows you to start using the desk as soon as possible
Cons
There is no shelf for a computer base unit integrated into this desk. Whilst this may not be an issue as you could simply stand one on the floor, it would make cleaning around a computer base unit a little tricky.
A lack of drawer or shelf space may make this desk unsuitable for those who have a lot of paperwork, drawings or writing materials.
Check The Latest Price on Amazon!
Conclusion
This stylish and modern computer desk is a great way of doubling the work surface that you have. Thanks to the L-shaped arrangement of the desk, you won't need to move very far to access the entire work surface.
The tempered glass work surface will offer you a scratch resistant place to work and the clear finish can help you to keep your office tidy, as you'll be less tempted to keep hold of any clutter or paperwork.
This desk is ideal for computer users, but it could be used for many other applications too. It features a sturdy design that ensures that the desk is lightweight but strong enough to support the objects that you want to store on it. The raised monitor shelf and the pull out keyboard drawer allow you to set up your computer neatly, although, with a lack of a shelf for the base unit, you may need to be creative if you want to use a tower style base unit with this computer desk.