The Serta 45457 Smart Layers Commercial Series-300 Executive Chair is just what you need in your office environment. Whether you care more about making a big impression or if you want to
minimize back pain
, there are plenty of great benefits to choosing this chair.
When you read this in-depth review, you'll discover some of the great features that are offered to the user including adjustments and the smart layer pillow system. You can be sure that this chair is ethical too as it is upholstered in high-quality faux leather instead of real leather.
Check The Latest Price on Amazon!
Features of the Serta 45457 Smart Layers Commercial Series-300 Executive Chair
If you're looking for an office chair with the best features, then you won't be disappointed with the Serta 45457 office chair. It offers superior quality along with some great ergonomic features for the user.
The high backrest offers a body pillow to support the neck, with inbuilt lumbar support for the lower spine to support the back and to encourage better posture.
This office chair is upholstered in high-quality faux leather. If you want a chair with an executive feel but are concerned about the ethics of having a chair that is upholstered in leather, then this chair is a great option.
You'll notice when you sit on this chair that it's not just cushioned, but that it feels as though it has been made to meet your needs. That is down to the smart layers that make up the padding of the chair. Foam wrapped comfort coils and layered body pillows work together to offer one of the most relaxing experiences that you could hope for.
Not only is this chair comfortable but it also features a highly ergonomic design that will ensure that you are seated in the optimum position for working at your desk throughout the day.
You will be able to make any adjustments that you need to this chair as it offers customized positioning options. This will allow you to align your spine and minimize the discomfort that you may feel on your back and muscles.
This chair features a full height backrest that will support your entire spine for all-day comfort and support.
Padded armrests allow you to rest your forearms whilst you work.
Benefits of the Serta 45457 Smart Layers Commercial Series-300 Executive Chair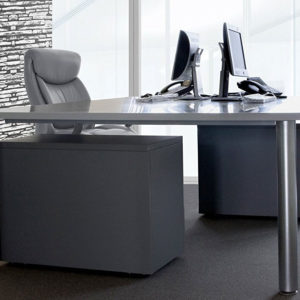 If it's not enough that there are all the above features to enjoy when you choose this office chair, you should check out these great benefits that you can take advantage of too. With these additional bonuses, you can be sure that you'll be purchasing an office chair that will last you for as long as possible.
You can be sure that your entire body will be well-supported thanks to the high quality of all the components that go into the manufacture of the chair, along with the ergonomic design.
The 10-year commercial grade warranty that is offered by Serta with this office chair ensures that you can enjoy your purchase for many years to come. If anything goes wrong with the chair, Serta will ensure that it is fixed or replaced.
You can choose from 3 different color choices when you purchase this office chair so that it will complement your office décor.
Although this chair comes with a higher price tag than some of the other office chairs that you'll find on the market, you can be sure that you'll get excellent value for money and a high-quality office chair that will suit your needs.
Pros
Height, tilt and lift features give you the chance to position this chair to suit your needs
Smart layered foam, coils, and body pillows offer premium comfort
High-quality faux leather upholstery
Padded armrests
Choice of 3 different colors
10-year warranty to protect your purchase
Cons
The base of this office chair can seem to be a little flimsy, especially for larger users.
Check The Latest Price on Amazon!
Conclusion
This is a high quality and executive looking office chair that is sure to make a big impression on anyone who visits your office. As well as looking great, it offers premium comfort and support to the user with layered padding and an ergonomic design.
As you can see from this in-depth review, there are many features included in this chair to enable you to customize the chair to meet your preferences and with a choice of 3 colors of upholstery; you also have great choices when you are making your purchase.
Serta offers complete peace of mind with this office chair as it comes with a generous 10-year limited warranty so that you can be sure that the chair will be repaired if any faults occur with the chair.